George's Blog Feb 16, 2018
How wonderful to hear the Gryphon Trio last month. They were celebrating their 25th anniversary as a touring ensemble. I think there are very few Canadian artists or groups who have performed for so many towns and cities across this country. The Gryphon is truly a Canadian Icon. There is hardly a town in Canada with an active concert programme that has not – at one time or another – presented the Trio in concert.
Part of their success lies in the hands of their management. An old friend and colleague of mine, Andrew Kwan – based in Toronto – had undertaken not only to develop the Gryphon's touring existence, but also he has assumed the responsibility of helping to build their remarkable career. Andrew is always there behind the scenes, whether it is helping them with repertoire, deciding where they should "showcase", assisting with their publicity. As I well know from sixty years of involvement with tour planning, the role of artists' management involves far more than just booking tours and signing contracts. Today's artists' manager is a combination of psychiatrist, travel agent, business manager and baby sitter. That the Gryphon Trio has flourished under Andrew's management is a good sign that touring artists and managers have come of age on the Canadian concert scene.
Now some news about White Rock Concerts. Our new website is up and running at whiterockconcerts.com I urge you all to take a look at it, and start using the website for a host of information that you will find there.
For instance, there are biographical sketches of each of the artists who are appearing for us. But that's just the beginning. Did you know that you could also look up the programme that each artist will be playing?
Very soon now you will find news about next season on the website. As soon as the brochure for the 18-19 season is printed, it will also be posted at whiterockconcerts.com.
You will also find a brief history of White Rock Concerts already posted on the website. That is just a beginning. In a few months' time when our archive is fully functional, you'll be able to find out who appeared for White Rock Concerts in any given season. Conversely, you might want to know how many times Ben Heppner [or any or tenor, for that matter] ever appeared for us. Or how many pianists we have presented since we began keeping records in 1956. Past programmes will also be available. All told, it will be an amazing source of fascinating information about your concert series – White Rock Concerts is now in its 62nd season, and we owe it to our future audiences not to lose track of this impressive history.
GZ Feb 16, 2018
For the final few weeks of 2017, I enjoyed an unexpected "vacation" at Peace Arch Hospital, recovering from a fractured hip. Many Board members and subscribers dropped by while I was there, and I want to thank them all, profoundly. I also welcomed those daily [sometimes twice daily] visits from The President. Erika, more than all others contributed to my quick and relatively easy recovery.
Nobody enjoys Hospital stays, but I must say that the medical staff, the nurses, the physio therapists and even those troglodytes down in the basement who prepared the meals [and to whom I am bequeathing a salt cellar in my last will and testament] were also extraordinarily kind and caring to me, and helped, each in his or her own ways, to sending me home as soon as possible.
The last ten days in the hospital consisted of a rehabilitation programme, where we worked intensely with some remarkably skilled occupational therapists. This little nugget of information has a curious and touching connection to White Rock Concerts.
On one afternoon, our Artistic Directors, Elizabeth and Marcel Bergmann dropped by to visit me. It was an awkward time. All thirty five patients from the fifth floor were gathered together in a small gym, where we were working out in a group therapy session with simple, repetitive exercises. I saw the Bergmanns out of the corner of my eye, but I could not navigate my way through the sea of temporary wheel chairs, and the entire session could certainly not be interrupted for just one patient.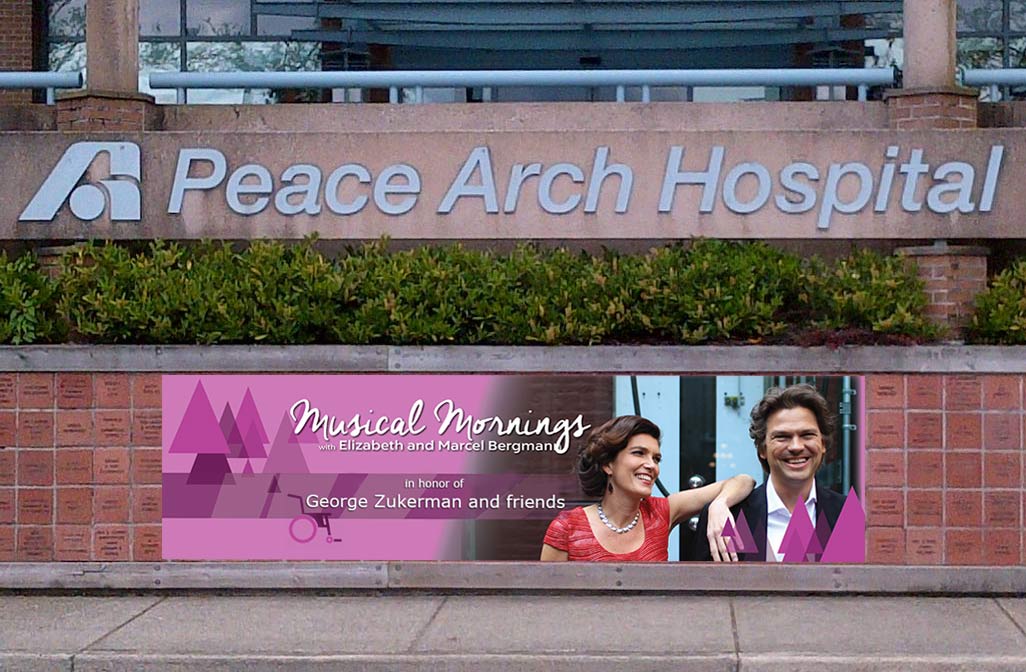 So the Bergmanns sat down at the edge of gym and waited…. Suddenly they noticed that in the corner of the room there was an electric keyboard. Marcel, ever curious, went over and turned the switch on, while Elizabeth tried an arpeggio or two, Marcel joined in and our exercises continued, picking up the rhythm of the music……Before long, the therapy session had turned into a magical two piano concert for the thirty five patients. Talk about a captive audience! On the other hand, talk about a couple of captive visitors!
What a lovely touch of Christmas joy that was, albeit ahead of the season..It was a delightful twenty minutes of Gershwin, Vivaldi, Mozart and Bergmann, and in such an unexpected venue. "Do they really do that for a living" asked one of my fellow patients "Yes, indeed", I replied " they are renowned international concert artists, and best of all we have them here in White Rock where they are my successors as Artistic Director of our concert series." We toasted the unexpected event in apple juice out of Styrofoam cups, the closest that Peace Arch Hospital would permit us to a proper bubbly salute.
GZ blog for Nov 17 concert
Christmas time is always exciting in the musical world. For White Rock Concerts we take a break from concerts, but in Metropolitan Vancouver, this is the time for other great musical events!
You don't have to look any further than our own programme, and the exciting announcements from Early Music Vancouver, the Vancouver Chamber Choir and Chor Leoni. The Early Music "Messiah" will take place right here in our own concert-hall church. It promises to be a truly authentic performance of that noble work – in the style and tradition of the century in which Handel wrote the work. Erika and I are certainly attending. We look forward to seeing many of you there.
On the White Rock Concerts front, we have exciting news, which should make us all feel very proud and powerfully connected with what was launched 61 years ago. Elizabeth and Marcel Bergmann our Artistic Directors have just signed an agreement to continue at the helm of this series for the next five seasons. This is important for continuity, for permanence, and – beyond the Semiahmoo peninsula, – for its important impact on the North American music scene.
For tonight's concert, the John Avison Chamber Orchestra is back again under the baton of Leslie Dala. John Avison – a great Vancouver musical pioneer – started the CBC Orchestra in 1938. By the time I joined the orchestra in 1956, it was broadcasting 39 weekly concerts. In the earliest days, union regulations did not permit recording, so each broadcast was precariously "live to air". Amazing things happened, including one occasion when half the orchestra began playing a Schubert Symphony, while the other half played the opening of Beethoven Symphony #2. On the air, John Avison clicked his baton on his podium and stated, with classic understatement, "Gentlemen, I think something is wrong. Let's start at the top again, shall we?"
Those broadcasts were held in the old studio "G", a former clothing store, and now the site of Vancouver's Four Seasons hotel. Some of Canada's history died on that sad day in 2008 when the administrators of the CBC Music decided to terminate Canada's last remaining radio orchestra. The re-creation, in recent seasons of the John Avison Chamber Orchestra is a small effort to re-kindle some of the musical excitement of those earlier years.
I'm also looking forward to being back on stage as narrator at tonight's event. But it isn't going to be easy! Past narrators for Peter and the Wolf have included Peter Ustinov, Boris Karloff, Basil Rathbone, Eleanor Roosevelt, Bill Clinton and Leonard Bernstein! I'll try my best, but I am certainly up against admirable competition!

Prokofiev's Peter and the Wolf was written at the time of the Great Purge, and the height of Stalinist repression in 1936. Although it was created for a Moscow-based children's theatre and conceived as a symphonic fairy tale, innocent childhood pleasure and delight had a difficult time surviving, when confronted everywhere by remorseless dialectic materialism.
Flash forward to 1978. On one of my Soviet tours in the Ukrainian city of Zaporozhe, Peter and the Wolf was on the first half of the programme. The narrator was the Educational Commissar of the famous Z coal mines. Even with my limited Russian I could tell that his narration was awkward and stilted, and at rehearsal the orchestra musicians could not stop themselves from laughing – not at Prokofiev's charming tale -but at the embarrassing narration.
At intermission the conductor came into the musicians' lounge and lectured the players severely, warning them to take the didactic tale of Peter far more seriously, lest the entire orchestra be in deep political trouble. As a result, at the performance that evening, the orchestra retained suitably glum expressions throughout, not daring to laugh. However, the audience was not so restrained, and they reacted just as the musicians had at rehearsal: they could not stop giggling – not at Prokofiev's charming tale – but at ineptitude of the Educational Commissar. I never heard the final outcome, but quite probably, the entire crowd of 1500 people was reported to the administrative apparatchiks of the Zaporozhe commune.
Recalling this incident, I created my own prologue for tonight's performance of Peter and the Wolf.
The tale of Peter, the Wolf and his friends
Is one that – we now learn – might have had other ends.
T'was published at first as a children's delight
But it didn't take long to set that score right.
Zhdanov and Stalin conceived of a plot
To turn a children's account into something it's not.
With Marxist dialectics a convenient excuse
They altered the story to serve their own use.
Our Peter's courageous, brave communist youth,
The wolf is a capitalist, truly uncouth.
The bird is a trickster, trained to jump any hoop
The duck is a false proletariat dupe
The cat is the lackey who serves any cause
And Granddad's a Kulak, who just obeys laws.
The hunters are Red army troops – always there
To defend Motherland both on ground and by air
The Zoo is the gulag where opponents must stay
While the victors parade for a joyous May Day.
Well, none of it happened, and childhood prevailed!
Breathe cheerful, for once again tyranny failed!
Pete's just a kid with inquisitive thoughts
The cat chases birds regardless of sorts.
The duck swims in circles while searching for food
The bird whistles happily: depends on his mood.
"Keep that gate closed" is what Grandfather grunted
While the wolf is a species endangered and hunted.
The Soviet soldiers, were ground keepers, all
The May Day parade took place in the Fall.
And if you are seeking the ultimate truth
You really don't need to look hard for proof.
Prokoviev's melodies are far too sublime,
To support a false cause and be lost to our time!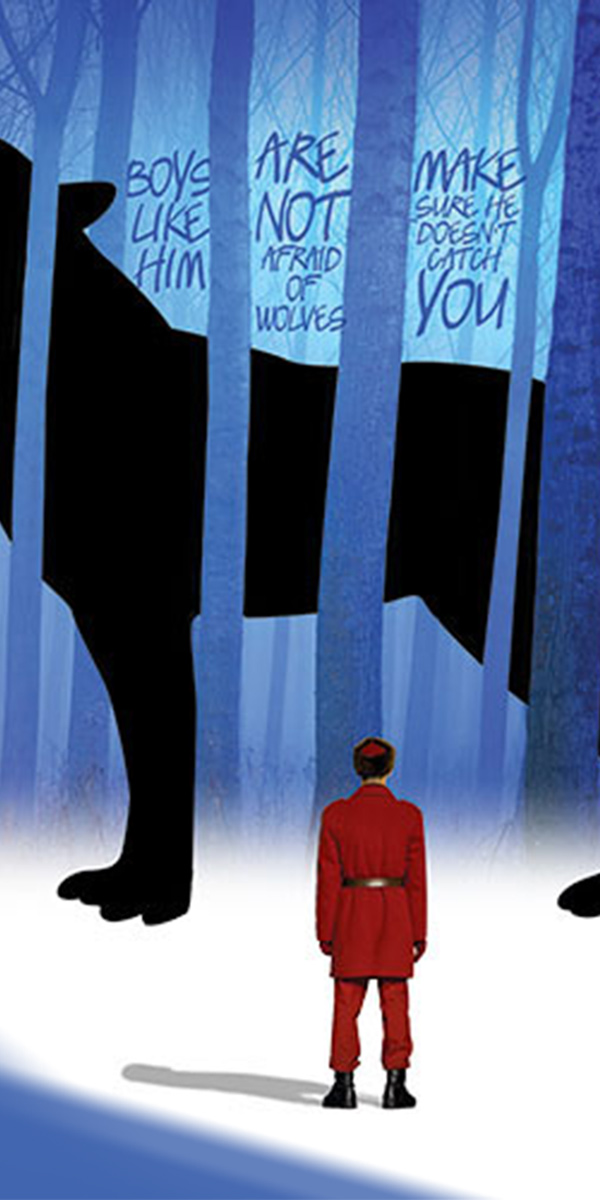 Erika and I have been going to the BISQC – Banff International String Quartet Competition ever since 2001, and over the years we have witnessed the emergence of one great string quartet after another, a number of which have become household names on the international touring circuit.
The winner of the BISQC in 1992 was the St. Lawrence Quartet, and we have presented them twice since then. In the 2004 season we presented another winner – the Jupiter String Quartet. Now it's the turn of the Rolstons. Their playing will speak for itself. However, one aspect of their history is worth recounting. The Quartet is named after Thomas Rolston [1931-2010] – violinist, teacher, mentor of so many wonderful young students, and the first Director of the year round Banff Music programme.
I knew a completely different side of Tom's musical life. He had studied in England, and I first met him when he was playing in the BBC Scottish Symphony Orchestra in Glasgow. He came back to his Vancouver home in 1958, with a new Scottish bride, the ever-charming pianist, Isabelle Moore. I first heard of their Western Canada music activity when they undertook a tour aboard a rusty Tofino fishing seiner, stopping in between hauls of rockfish, halibut, lingcod, herring, mackerel and the occasional spiny dogfish, to play violin and piano sonatas at out-ports along the coast. Heaven knows what sort of pianos they found on their watery travels. In any case, it took Tom and Isabelle to prove that it was possible to bring serious music to Bella Coola, and Kitimat – unheard of concert locales in those early days of BC's musical emergence.
They may not have known it at the time, but it was their early pioneer touring that inspired me to start organizing concert series throughout Western Canada.
It's particularly significant when you consider that the Rolston Quartet is playing Murray Schaefer's Quartet # 2 – Waves, tonight. I cannot help thinking of those two poor seasick landlubbers playing Beethoven sonatas in Ocean Falls in 1958! Well, just look around at our White Rock Concerts audience and you'll realize what they helped unleash!
Finally, before I close, I wanted to add something special about last month's opening concert. I don't think we quite recognized the significance of Marcel Bergmann's new concerto, with which they ended the programme. [Train whistles and all!] That evening, we had the privilege to be present at a very special event – it was a world premiere. The concerto had never been performed anywhere before that Friday night in late September.
But wait! That's not all. That concerto was White Rock Concerts' contribution to the celebration of Canada's 150th anniversary. Your committee commissioned Marcel to write the work.
And then, there's a final detail that I didn't even find out about until after the concert was over. Marcel decided to dedicate the concerto to me. It's a signal honour, and perhaps I should be getting used to that sort of thing. After all, those of you who attended the Bell Centre concert last April will recall that Bramwell Tovey dedicated his new choral work to me. I am indeed wonderfully and doubly fortunate. Meantime, if anyone else if writing a symphony or Opera for me, please let me know. Thanks.
Sept 22, 2017
Welcome to another season – and what a season it promises to be! It starts off with a joyous romp through Vienna. Tonight's programme – Vienna Masters – and More! features a "world premiere" – a new concerto for piano, four hands, written by Marcel Bergmann to celebrate Canada's 150th birthday [and White Rock Concerts' 61st!]
The John Avison Orchestra will be back us for this opening concert and also in the November, February and April concerts. It sounds to me as if White Rock Concerts will need to purchase some new music stands to augment the limited number that we have available at the Church!
This past May, your Artistic Directors spent some time with me cruising down [or up?] the river Douro from Porto to Vega de Teron in Spain. They played a wonderful cross section of two piano repertoire, while the passengers indulged in more wine-tastings than we could count. Julie Nesrallah, the voice of CBC Radio II's morning show, Tempo, was also aboard the Ama Vida singing glorious solo Cantatas of Haydn and Resphigi, along with excerpts from her one-woman show, Carmen on Tap!
We ended up in Madrid, in the 9th floor penthouse of the Teatro Real [Royal Theatre]. The Sala Gayarre is an elegant small concert hall just large enough for 100 guests, a small orchestra, our visiting soloists and a single grand piano! When the Bergmanns were finally on stage with the entire orchestra, we suddenly discovered there was no room for the conductor! We thought it somehow prudent to figure out a way to get him into the act, so the two French horn players moved over and took the two remaining seats in the auditorium and played from there.
I want to take a moment here to thank almost 500 of you who joined me at the Bell Centre in April for that glorious celebration concert. I was deeply honoured by the stunning performances of the Bergmanns, the Iseler Singers, the Borealis Quartet and my long time colleague and friend, Jim Campbell. I was deeply touched by Bramwell Tovey's piece, which he wrote especially for the occasion and dedicated to me. But Erika and I were most moved by your participation and by the incredible work of the committee that put the event together. Thank you, everyone.

Meantime, I have had a number of telephone calls about the new CD which I produced at the time of the concert – it was a fascinating retrospective of broadcast recitals over the past fifty years for the CBC, BBC, ABC and SABC.
If any of you would care to have a copy, just send me an e-mail gzuk@telus.net
Now, sit back and enjoy the new season.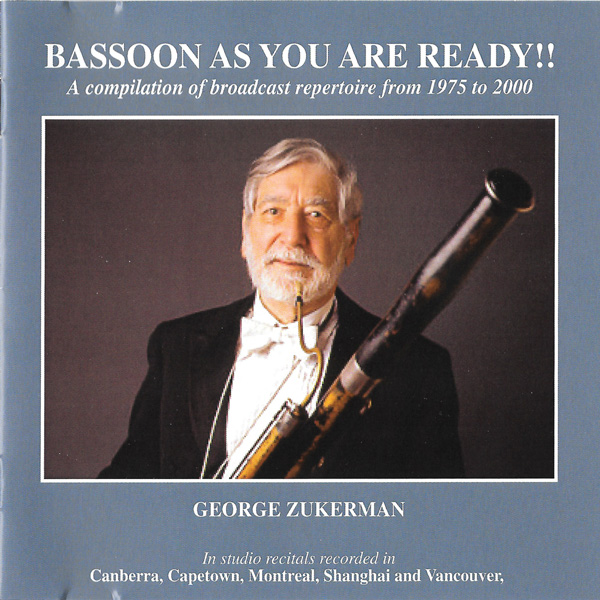 March 2017
It always amazes me how small and close our music world really is! Sit for an hour or two at Frankfurt International Airport, and try counting the number of violin and cello cases that go past you either to pick up baggage or to board planes to distant parts of the world! Often the culprits are good friends and colleagues. On other occasions you may see a parade of youngsters carrying an assortment of instruments to the boarding gates – probably an international youth orchestra on tour! Only the pianists pass by without instant identification. Not many of them anticipate taking their instrument on board a flight as "carry-on baggage".
And it is not so different here at Vancouver Airport. The number of artists on tour increases every year as more and more concert activity springs up across the province. Who said that classical music was dead? Count the cello cases, and be reassured.
Cellists, like their cousins the double bass players, suffer the most from airline regulations and restrictions on what may and may not be carried on board a commercial aircraft. In the "old days" [before airport security was an accepted reality of getting through an airport] most musical instruments were allowed on board flights as carry-on hand baggage. Flute and piccolo players had the least trouble! But even then, artists who carried cellos and double basses had to purchase a seat for the instrument. Initially it was at half price; then raised to 75% and latterly at full fare. Many a flight was delayed while cabin crew tried to figure out how to fasten a seat belt around a double bass. In those heady days when even economy class air-travel provided in-flight meals, passenger jokes abounded, asking whether the cello received a free meal.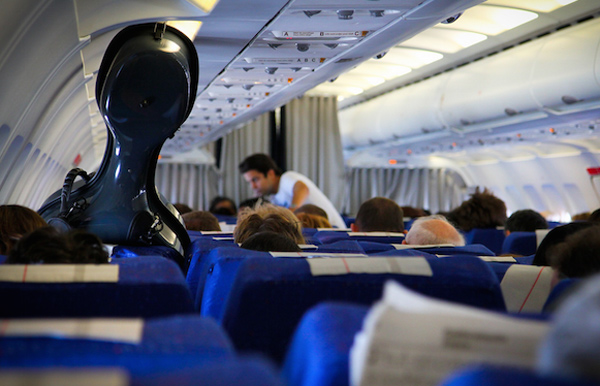 As to pianos…well, a word of advice: don't try flying somewhere with a grand piano.
Mind you – it has been done. In 1961 the Eldorado Mining Company flew two pianos north to Uranium City on their ancient ore-carrier air-freighter. I remember standing, on a freezing February morning, at hanger #8 of the old Edmonton Municipal Airport, watching the two precious Steinway grands being hoisted aloft on forklifts, where – fifteen metres above the tarmac – they swayed precariously, while air-crew tried to figure out if the pachydermal shapes would really fit through the freight doors of the DC 4. The answer, at 25 below zero temperature was an absolute "no". The pianos swayed their way down to ground level while engineers removed the freight door from its hinges. Two hours later, they tried again. This time, the wind subsided, and the pianos were raised once again to the loading level, where they were finally set to rest inside the aircraft, on a bed of left-over yellow-cake. Doors were replaced, and pianos made their historic trip to the mining community, on the border of the Northwest Territories.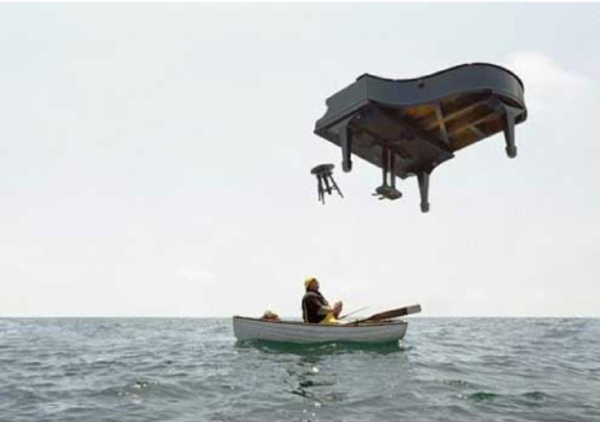 I wasn't present for the return flight, but everything must have gone smoothly. The artists arrived on time to Medicine Hat, pianos and all, as scheduled for their next concert.
Now, I'll bring this story up to the present day. Our Artistic Directors Elizabeth and Marcel Bergmann have taken a page from that era of musical history and have begun active touring with two grand pianos in tow. So far they are limiting their adventures to highways, but who knows – perhaps before too long somebody will come up with the idea of a duo-piano concert in one of the numerous northern communities that still have no easy road access.
I hear that Elizabeth may be studying for a pilot's license.
Enjoy this month's concert. Catherine's piano will arrive unceremoniously from our friends at Showcase Pianos on West Broadway, but Kai Gleusteen's violin will be undoubtedly spied passing through Barcelona's ever busy international airport.
February 2017 – The Anatomy of a Concert Tour
I think that most of us who attended the January concert by the Canadian Guitar Quartet were captivated by their amazing vitality and virtuosity. It was a doubly significant event for me because our White Rock concert was also the opening night of a 23 concert tour of BC and Alberta which I had the unique pleasure of organizing for them.
I thought you might be interested in an insight into how a tour of such scope is put together – call it "the anatomy of a concert tour".
An old friend and colleague, Toronto-based concert manager, Richard Paul, introduced me to the Quartet. Now: it's a manager's job to represent his artists as forcefully as he can, and those of us on the "buying" side of the artistic fence sometimes view management hyperbole with a modicum of skepticism. So for years I resisted Richard's entreaties about this particular group. And then I heard them in a short showcase at a conference in Vancouver. Suddenly something about them clicked.
Here was the perfect attraction for sophisticated audiences in larger centers and, at the same time – by the sheer popularity and ubiquity of the guitar – a group that was likely to appeal to smaller communities with less concert experience. Here too was a young, energetic, enthusiastic ensemble, in love with their instrument, determined to make music wherever they could, and willing to work hard to present the guitar in a new classical light. They were the right group for an extensive tour.
That of course, was just the beginning. The Gentlemen of the CGQ are from Ottawa. What would happen if, as a result of such a showcase, Kaslo – deep in the Kootenays – or Sechelt on the Sunshine Coast – were to request a date? A single, isolated engagement will barely pay the air travel cost, let alone a rental vehicle, hotels and meals as well as performance fees and commissions.
We have an old adage in the concert world. If you want to build a tour, then at some point you have to be willing to accept the first engagement that turns up!
But here is the traditional dilemma. Communities may show potential interest in a tour. On the other hand, managers and their artists from distant parts cannot risk undertaking huge travel expenses without assured results.
So, instead, they will offer a discounted fee in return for a commitment from somebody else to pay for a minimum number of engagements, regardless of the tour organizer's success.
And that's what I undertook to do for the Canadian Guitar Quartet. Over two years ago I committed to Richard Paul that I would guarantee to pay for a minimum of 12 engagements.
Filling such a commitment wasn't easy. Like White Rock, many of the concert societies have fixed days of the week when they must hold their concerts. White Rock, West Vancouver, Coquitlam, Chilliwack, Kelowna and Kaslo all need Fridays. Sechelt could only take Sunday. Langley, Abbotsford and Nelson insist on Saturdays and Kamloops has to have a Thursday.
Help!! I am working on creating a nine day week with three Fridays and two Saturdays, designed especially for concert tours, but no matter how hard I try, I end up with the regular number of weekend dates in any given three week period.
In spite of that I somehow created an itinerary. Some communities didn't get the night they wanted. Others weren't able to take the attraction. Thank goodness for Parksville and Cranbrook where the Presenter will take any day of the week for their concerts.
In the end I reported back to Richard Paul in Toronto with a very neat tour: 17 engagements in 21 days of touring. Guarantee fulfilled. A risk-free tour for the Canadian Guitar Quartet.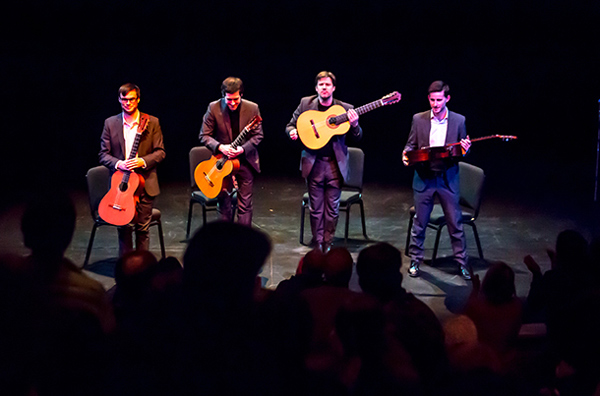 That was six months ago. And then the complaints began arriving. What had I done? Too tight a schedule? Not enough time for relaxation? On the contrary. The complaint was that there was too much free time. "We want to play every day," they insisted. Would I be kind enough to try to fill all those gaps in the tour!
It was back to the drawing board, and an arduous three months of additional booking.
Even when that was done, there still remained innumerable logistical hurdles to jump. With the airlines we soon learned that we would have to teach the guitars to fly. Each instrument either has to purchase a seat or pay a special excess over-size baggage charge. With the rental vehicle we needed to find a company that would provide snow tires, allow more than one driver on the contract, accept a drop of the vehicle in Calgary, and not insist on full payment in advance. With hotels. most communities proposed first class luxury accommodation. Some offered B&B, others private hospitality. All provided comfort, service, convenience and economy. With BC Ferries, some routes accepted reservations, but others required lengthy line-ups to be sure of space. High winds in December had caused numerous ferry cancellations. The CGQ was extraordinarily fortunate. In January all of their sailings were on time.
I had a management colleague in the early 70's who quit the concert business and went into future sales of potatoes. [He owned property on PEI.] He once, very simply, described the difference between the two business models: "A sack of potatoes" he told me "will not talk back to you!"
This has always served as a reminder to me that the principal consideration in planning any tour has to be the needs and requests of the artists who are involved. Although in the case of the CGQ it was clear that I was dealing with dedicated workaholics, whose passion for their instrument was going to overcome many difficulties, there were still plenty of special requests from the four guitarists..
One of the performers had just become a new father six weeks before the tour began. He was understandably anxious to get home as soon as possible, to see whether his son would recognize him, anew. So I wasn't surprised when he requested to fly home from Calgary on the red-eye at 1.30 a.m. after the final concert.
But then the other three members of the Quartet requested the same night flight!
It turned out that they all were due to start rehearsal for a guitar festival in the nation's capital the very morning they arrived back in town!
Well, as you can see, putting a tour together is a bit like completing a gigantic jigsaw puzzle, with human beings as the moveable pieces instead of wooden cutouts!
In spite of all this, we ended up with 23 engagements! The artists would earn nearly double what they had anticipated. A collective audience of nearly 10000 BC and Alberta concertgoers would hear and enjoy the CGQ. And four young gentlemen from Ottawa would not only experience BC and Alberta's remarkable audience enthusiasm and warm personal hospitality: they would also acquire an unequalled knowledge of Western Canadian geography.
January 2017
Greetings to all of our White Rock subscribers, and let me take this occasion to wish you all a wonderful New Year, full of great music.
We're starting the New Year with a fascinating ensemble – the Canadian Guitar Quartet. Their manager, Richard Paul is an old friend of mine and he started talking to me about this ensemble almost three years ago. Not only did I end up recommending them to Elizabeth and Marcel for our White Rock Concerts series, but I also helped Richard and the Quartet by organizing an extensive B.C and Alberta tour for them. This segment alone has nineteen concerts in just 21 days. White Rock's concert is the opening event of this grand tour.
Their programme, as you will hear, is widely varied, but most exciting of all they are playing the Rodrigo Concierto Andeluz, with the John Avison Chamber Orchestra, conducted today by VSO Associate conductor, Kenneth Hsieh. Most listeners are familiar with Rodrigo's Concierto Arunjez¸which is written for just a single guitar solo and orchestra. The Concierto Andeluz was written in 1967 for the Romero Guitar Quartet, and although it was created nearly thirty years after the solo concerto, it is imbued with those same quintessential Andelusian rhythms. The spirit and style are unmistakeable!!
When I wrote this "blog" I had no way of knowing what the January 20th weather would be like. Let me just say that if – by chance – we are in the midst of another cold spell, the Concierto Andeluz will very happily succeed in warming everyone up!
Now, if I have space for a few more words, I would like to tell you about a fascinating concert development in a number of nearby rural BC communities. Stimulated by our remarkable success as a subscription audience here in White Rock, I have been able to encourage several new series to launch concert plans for the coming season. Of course, this is wonderfully beneficial to the communities, and to the artists who suddenly find additional places at which they can perform. But ultimately it also benefits White Rock Concerts, since new tours are established and fees are reduced as more concerts are added to existing tours. It's a win-win for everyone.
New concert series are now active in Parksville, Port Alberni, Burnaby and Agassiz. All of them succeed because they follow White Rock's basic guiding rules – quality artists, and subscriptions only with no single tickets at the door. It's amazing how this method works, every time.
Parksville [Oceanside Classical Concerts] is headed by a former White Rock subscriber, David Douglas. Now in its third season, they are sold out with 300 subscribers at the Knox United Church. Port Alberni is just beginning, also sold out with 120 members at a converted church, Char's Landing. Agassiz is approaching 125 members for their first season, and Burnaby – the tiniest of the lot – aims to fill an 85 seat chapel at Brentwood Presbyterian Church.That series is headed by the ever energetic Minister, Rev. Brian Fraser. I had the pleasure of meeting him and his charming wife, Jill, aboard our Danube trip last year. I guess I should invite you all to join in the next river cruise on the Douro in May of this year. Then if any of you retire to the interior or Vancouver Island, you'll be primed to become Chairman of the next new concert audience in BC!
Nov 18, 2016
Hello, White Rock Concerts Friends –
I am back from my wanderings around Southern Europe, and looking forward immensely to attending the next concert with pianist André LaPlante and the John Avison Chamber Orchestra. You have probably noticed that you are going to enjoy the orchestra several more times this season – with the Canadian Guitar Quartet in January; with Kai Gleusteen and Catherine Ordronneau [violin and piano] in early March and with the UBC Opera Ensemble in their late March production of La Bohème.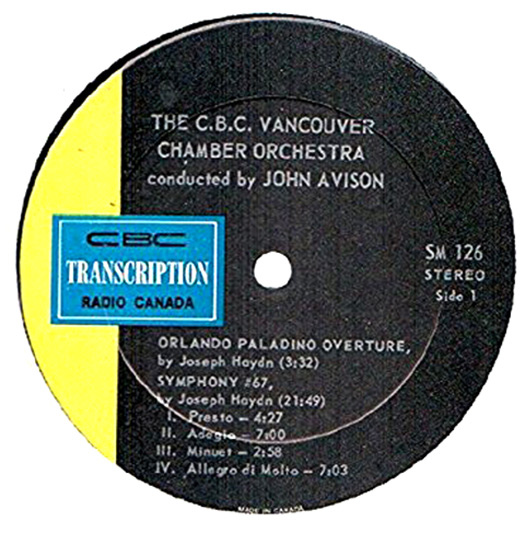 The John Avison Chamber Orchestra consists of some of Vancouver's finest free-lance players…..for years, many of them played with Avison's distinguished CBC Vancouver Radio orchestra. When the CBC [foolishly, I suggest] terminated the orchestra's regular broadcast schedule in 2005, the City of Vancouver was left without a unique musical gem.
It always struck me as ironic that Winnipeg [a city one third the size of Vancouver] could maintain both a full Symphony Orchestra and a Professional chamber orchestra. The City of Minneapolis, only half the size of metro Vancouver is home for both the Minnesota Orchestra and the St. Paul Chamber Orchestra. Why not Vancouver?
So, here's a little bit of Vancouver's lost musical history. The Orchestra was founded in 1938. John Avison was its conductor until 1980. I was a member of the orchestra in the 60's when we broadcast as many as 39 one hour broadcasts a year, many of which were also public concerts. In its final years, it was the last remaining publicly funded radio orchestra anywhere in North America.
Avison's band played a quintessential role in the development of Canadian music in the last century by performing and recording an endless list of contemporary Canadian works. It reached out to remote and smaller communities by a series of tours, which included Frobisher Bay [before it became Iqaluit], Whitehorse, Yellowknife and Inuvik. In the orchestra's entire 70-year history, there were only three other conductors John Elliot Gardener, Mario Bernardi and Alain Trudel.
Any surprise, then, that I wanted to see a chamber orchestra in Vancouver named after its founder, innovator and earliest musical inspiration? Well, now that the Bergmanns are taking such splendid care of White Rock Concerts I can devote some of my time to the re-establishment of a chamber orchestra for metro Vancouver. And, in a way, White Rock Concerts will play a central role, and thereby take its own special place in Canadian music history by revisiting that long lost heyday of John Avison's remarkable CBC Orchestra…..truly, the little orchestra that could.
Oct 21 Poulenc Trio
Hello, White Rock Concert friends!
Unfortunately, I am not able to be with you for this Oct 21 concert by the Poulenc Trio and friends.
I'm off on the River Rhone, somewhere between Avignon and the Spanish border, and I'll miss the chance to hear this ensemble.
There's a long history to this concert, and also an amazing musical coincidence, which as you will see, helps to assuage my temporary sadness at not having the chance to hear the great Poulenc sextet for winds and piano. First of all, you may ask, how can a Trio play a Sextet? Well that's part of the fun of tonight's concert – the Poulenc Trio is being joined by three of our Vancouver wind-playing colleagues.
But let's return for a moment to the history. I met the manager of the Poulenc Trio approximately twenty-five years ago at a booking conference in Salt Lake City. Lisa Sapinkopf always had interesting groups on tour.
The St Petersburg String Quartet, which we presented twice over the years, was managed by her, and when she told me – about ten years ago – about the formation of the Poulenc Trio my ears pricked up because of the wonderful repertoire that this group offered. With the exception of the opening work by Alfred Schnitke, I have played all of these pieces at one time or another.
I would so much have enjoyed hearing these works again in the hands of these remarkable players, and for several seasons, I tried to fit the Poulenc Trio into our programme, but somehow there were always conflicts with dates or logistics that made it impossible. It took the Bergmanns to pin down a date for the Trio.
Well, that leads to today's coincidence. While you are enjoying the Poulenc Sextet at the concert on Oct 21, I shall actually be listening to exactly the same work played on board the AMADAGIO as it is anchored in Arles, city of Vincent van Gogh. And there is even a further coincidence: The pianist, who will join with the Wind Virtuosi of Montpellier in the concert at Arles, will be Catherine Ordronneau, who will be appearing for you along with her husband Kai Gleusteen and the John Avison Chamber Orchestra on Friday, Mar. 10, 2017, right here in the White Rock Baptist Church. Small world, indeed!
Meantime, the Bergmanns asked me to write a few comments on the music, which the Poulenc Trio and friends will be playing at the Oct 21 concert. Here goes. Wind players like to believe that the repertoire speaks for itself. The occasions when winds are featured at concerts are sadly rare, but fortunately the composers who have written for us manage to display splendidly what these instruments are truly capable of doing.
When Mozart completed his wind quintet, he wrote to his father, saying, "this is the greatest work I have ever written". It is truly a grand concerto for the four wind instruments and piano, concluding in the joyful Rondo finale with a brilliant cadenza for each of the players.
There is nothing particularly "Pathetique" about the Glinka trio, except. In spite of the choice of a sometime-sombre key of d minor, the entire Trio is a wonderful frolic for the three instruments. Originally written for clarinet, the adaptation for oboe opens up an entirely new sound spectrum. I particularly love the slow movement, where each instrument in turn displays its virtuosity and its multi-hued colours.
Finally, a short word about the Sextet of Poulenc – the grand 'pièce de résistance' of the programme. This piece was written and premiered with Poulenc at the piano along with distinguished colleagues from the Paris Conservatory orchestra. These players were all close friends of Poulenc, and you can sense in the writing, particularly in the way melodies and phrases are tossed around between the different instruments, that he is enjoying every moment in which he exploits the lyrical and rhythmic possibilities of each of the instruments. This is true "chamber music" – Music de Camera, or music for friends, and stands as one of the greatest 20th century works for winds. Listen, in particular, to the sheer joy of the Parisian street tune in the last movement. It took cheek to write something that in other hands might have become banal. Chutzpah!!
September 14, 2016
Hello, White Rock Concerts friends:
After 59 years at the helm of White Rock Concerts, I am honoured to be named your Artistic Director Emeritus. [ADE] Now the big problem for all of us is to figure out what an ADE is supposed to do!
Certainly I am happy to continue being actively involved, and at least to feel occasionally useful. One thing we have decided – I'm going to write a blog for each concert, with various matters of interest to White Rock Concerts…maybe some of the fascinating behind-the-scenes-activity that goes on in connection with every one of our concerts. So here goes, ADE Blog #1- Sept 30, 2016.
First of all I want to extend our best and fondest greetings to the new Artistic Director team – Elizabeth and Marcel Bergmann. The Bergmanns will have a busy year, both in their role as active performers on the international concert stage and as proud Artistic Directors of our series.
A very brief word, now, about the 16-17 series, which starts off September 30th with the Lafayette Quartet. The Bergmanns have put together a wonderful mix of concerts: instrumental, vocal, and piano and a full-fledged Opera to wrap things up. Underneath it all is a special kind of adhesive that holds everything together – the glue of orchestral accompaniment. Within a couple of seasons, our John Avison Chamber Orchestra may well become a permanent fixture of the lower mainland's vibrant concert scene.
Behind the scenes: Val Marten, who is responsible for organizing pianos, chairs, music stands and other necessary equipment, won't have much to do for the first concert. The Lafayette Quartet will even brought their own music stands! We provide the chairs. But is that quite enough? Cellists seem to need a special kind of seat…in this case, a piano bench. As to the Quartet, they arrive after a short ocean cruise [from Victoria] with BC Ferries. We understand that none of them become sea-sick. Calm seas and a smooth performance up ahead!
One of the things I am still taking care of, with the help of Jim Adams on our Board, is the advertising, which appears from time to time in our programme booklet. This season, we are very happy to greet two new advertisers – Haley Dodge, and the Langley Community Music School. Haley Dodge, a long time White Rock family business, [operating as White Rock Chrysler] undoubtedly hopes that all 800 of us rush out and purchase Dodge Rams sometime this year. The Langley Music School [where the Bergmanns are active teachers] schedules a series of concerts in their intimate 150 seat hall…some by national and international stars, some by their distinguished faculty members. Also on our advertising pages, a tip of the hat to our "regulars" – STI travel, with their wonderful European river cruises, and Crescent Gardens, one of South Surrey's unique and splendid seniors' homes.
Finally, a brief note on what else an ADE does, outside of White Rock Concerts. At first I thought I was going to suffer from terminal boredom. No such chance, dear friends! I am wonderfully occupied, helping out on the advertising for White Rock Concerts, and also as you can see from the STI ad in this and other programmes, also actively planning classical music programmes to accompany exciting cruises of Europe's major rivers.
That's enough blog until the next time. See you on the 30th, and again at the Oct 21 concert of the Poulenc Trio + Friends.
George's Final Report to AGM – 2016
Comments by George Zukerman, O.C., O.B.C., Artistic Director of White Rock Concerts to the Annual General Meeting of the White Rock Concert Society, held on June 6, 2016
This is my final report to you, as Artistic Director.
It has indeed, been a remarkable 59 seasons. When it began sixty years ago, nobody had the faintest idea that it would become a text-book example of how an "organized audience" could flourish while all around us, others fought deficits, and ultimately succumbed to pressure to water-down their content.
We avoided both paths to self destruction: we have arrived at our present position debt free, grant free and – as a result – artistically free. We have allowed no deficits and we have relentlessly pursued quality in everything we presented.
My last season for you ended with a special surprise – the young Hungarian cellist, Istvan Vardai. I knew he was good, but I am not sure that even I recognized in advance just how good he was. Downtown Vancouver booked him immediately for next season and his career is now burgeoning in the world's major musical capitals. There is muted talk in management circles that this young man is the Yo Yo Mah of the next generation.
My last season was also marked by something else of striking significance. On three occasions, we brought together the John Avison Chamber Orchestra….twice it was to accompany guest artists – the Bergmanns and Mr. Vardai, and on one occasion the orchestra took flight on its own under the baton of Les Dala. That concert with the glorious Mozart wind concertante, stood as an example of just what a polished professional chamber orchestra can contribute to any season – and, more significantly, to a community and a city. What we have started at White Rock Concerts may become the model for a permanent Chamber Orchestra for the city of Vancouver.
It has been a unique opportunity to serve the audience of White Rock and South Surrey. In the course of those 60 years, I would like to believe that I may have helped to shape public musical taste. If that is so, then it is really a tribute to you. After so many years of on-stage excellence, you – the membership of this Society – will settle for no less. Elizabeth and Marcel: that's what I've burdened you with.
For once in my Annual Report I don't have to talk about the future – but I will, anyhow.
Next season looks good – the programme is varied, colourful, a mix of celebrities and new groups, which I am sure will surprise and delight you. The orchestra is still there on three occasions, and Roger Phillips reports that we will again have a sell-out crowd. We must have been doing something right.
And behind it all stand not just Elizabeth and Marcel, responsible now for continuing to find and secure the kind of programme you want to hear, but also a remarkable Board of Directors, without which White Rock Concerts would not be where it stands today.
Erika – our president [and my president, too!] whose cool insistence on reality doesn't allow us to dream recklessly, and keeps us all on a straight and honest path;
Emerson, who, like me, is retiring after this year…but not before he has made sure that his membership expertise is now firmly in Roger's hands, and exercised his magic on one more occasion, to compile our nomination list for the forthcoming election of the Board;
Susan who now prepares our programmes and proofreads them with an eagles' eye, and who will quite possibly be ready to move one day on to the Presidency;
Ed who controls the finances with simple clarity, cautious advice and fond attention so that we are in a sound financial position as we enter our 61st year;
Roger who succeeds Emerson's 23 years with an equally determined sell-out success now looming;
Val without whom we would never see a piano on stage, let alone have one in tune;
Marguerite who rescues the artists from imminent starvation on concert night;
Lynne whose meticulous minutes as Secretary help us all on the board, to remember what we promised to do;
Konrad, ever courteous, who makes sure that everyone finds space in the pews;
Charles who maintains the website and prepares the Screen announcements;
Jim Adams who joined me on an advertising team appropriately labeled A to Z;
Joyce who braves the winter winds to greet subscribers with a smile and a programme;
John and Dorthe, new Board members, perhaps anticipating specific tasks which need doing;
Eldon, compelled by personal pressures to leave the board, but still helping by guiding artists on and off stage.
And behind the scenes at the Church – not on the board, but certainly deserving of our attention and affection – Ted Brandon, always there, always helpful, and an invaluable link between us and the Church.
What a team! Thank you all. Not just a Board, but also good, dear friends. And thank you to those new volunteers, and potential Board members who will be joining us, perhaps as soon as this coming season. Boards are fluid organisms, and it is quite reasonable that there should be regular and normal turnover. I know that the Executive is looking for a new Treasurer to replace Ed at the end of next season, and although it will no longer be of direct or specific concern to me, I certainly hope to see this, and other positions filled with that same boundless enthusiasm that has marked our growth and development of the past 60 years.
As I said at the start: It has been a fantastic 60 years – debt-free, grant-free and artistically unfettered. Thank you for giving me the opportunity to serve you and to serve the cause of good music in White Rock and South Surrey.
George Zukerman, O.C. O.B.C.