FOUNDER AND ARTISTIC DIRECTOR EMERITUS
FOUNDER AND ARTISTIC DIRECTOR EMERITUS
George Zukerman, O.C., O.B.C.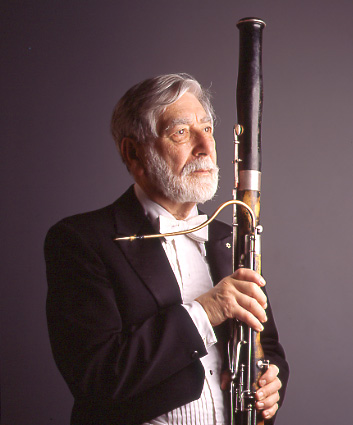 White Rock Concerts' Artistic Director Emeritus, George Zukerman, O.C., O.B.C. has spent a lifetime divided between concert performance and concert organization.
He launched White Rock Concerts in 1956, while still serving as a member of the embryonic Vancouver Symphony Orchestra and John Avison's CBC Vancouver Radio Orchestra. He maintained the post of White Rock's Artistic Director while simultaneously embarking on a world-wide concert career during which he received wide international acclaim as a virtuoso bassoon soloist and recording artist. He retired from the concert stage in 2012.
For many years, parallel to his performing career, Mr. Zukerman maintained an active profile as one of Canada's leading impresarios. He specialized in community organization, particularly for smaller centres. His Overture Concerts organization in its 1970's heyday, presented hundreds of concerts throughout the West and North of Canada. White Rock was one of his earliest community organizations.
Mr. Zukerman also developed a unique programme of school concert-demonstrations for isolated communities from Coast to Coast to Coast, with special emphasis on the northern regions of Québec, Ontario, Manitoba, Saskatxchewan, Alberta and B.C. as well as Nunavut, Nunavik, Labrador and the Norethwest Territories. Under Remote Tours Canada [a partnership with The Canada Council and the Music Performance Trust Funds of the Musicians' Union] he sent more than 600 small instrumental and vocal ensembles to every isolated communities in the Canadian North.
In recent years Mr. Zukerman has also concentrated on sending celebrity Canadian soloists to unexpected smaller communities across the West. Ben Heppner has sung in Altona, Russell Braun on Pender Island and at Sechelt; Isabel Bayrakdarien appeared in Nelson; Richard Margison in Powel River; the Gryphon Trio in Terrace; Anton Kuerti in Ft.McMurray, and Octagon on Salt Spring Island.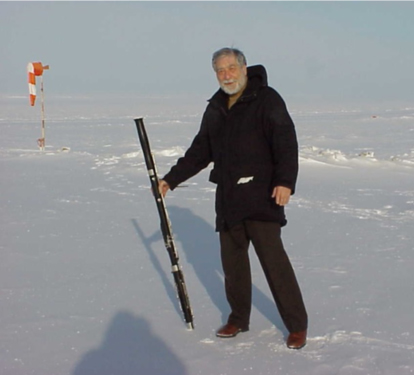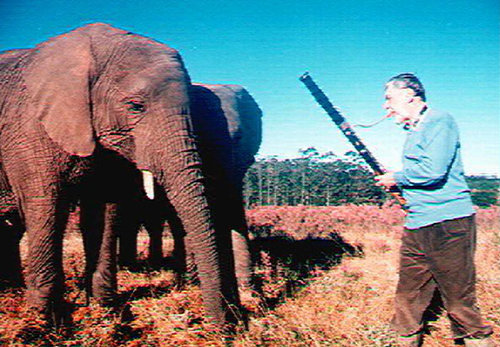 He remains a fierce protagonist for classical music and for the subscription plan which operates so successfully at White Rock Concerts.
As a performer, George Zukerman was one of the few artists in the world to achieve recognition on his instrument, the bassoon, outside the symphony orchestra. An ardent spokesman for his instrument, he earned the sobriquet "The High Priest of the Bassoon" and was often credited, single-handedly, with rescuing his instrument from penal servitude in the back ranks of the orchestra.
During his lengthy playing career he achieved the distinction of being the first bassoon soloist ever invited to the former Soviet Union, to Australia, New Zealand, South Africa, and China.
In more than half a century of international touring, he racked up a total of 43 European tours, and he has recorded the major concerto repertoire for the bassoon for the Vox-Turnabout label with the renowned Wurttemberg Chamber Orchestra under the direction of Jorg Faerber.
Mr. Zukerman was awarded the Order of Canada in 1993 and the Order of British Columbia in 1996 for his contribution to touring in Canada and abroad.
What does a retired Artistic Director, Concert Manager and solo artist do in his new found leisure time? His most recent activity involves organizing classical music tours of Europe with a Boutique river-cruise travel organization.
Born in Great Britain, Mr. Zukerman has lived in Canada since 1953. He attended school in New York at the High School of Music and Art and Queens College. Prior to settling in Canada, he was a member of the world-renowned Israel Philharmonic Orchestra in Tel Aviv. From 1953 to 1965 he was a member of the Vancouver Symphony Orchestra and the distinguished CBC Chamber Orchestra.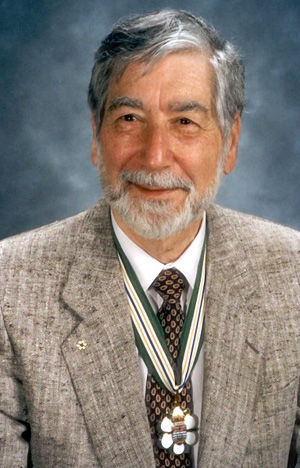 George Zukerman presently resides in Ocean Park with his partner, Erika Bennedik, well known South Surrey violin teacher and former member of the Vancouver Opera orchestra.
For a more complete biography, please see Mr. Zukerman's website.